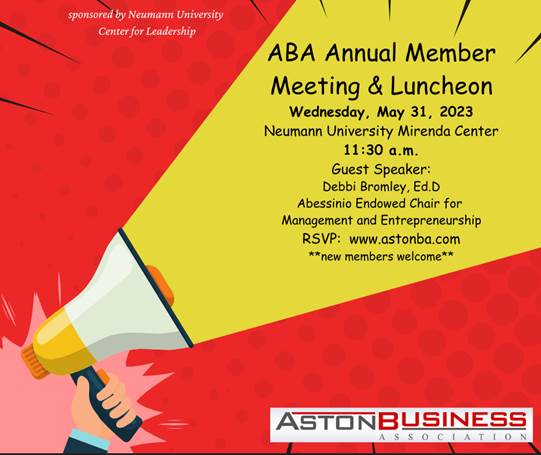 Join us in welcoming a great new member to our community, Thayer Distribution!
Soon to be occupying the newly constructed industrial space on Springbrook Blvd, Thayer Distribution is a family owned and operated candy distribution company. They are looking for a friendly, customer service minded CDL A driver to deliver palletized orders to their local and regional customers. At Thayer, drivers are more than delivery personnel, they are our brand ambassadors.
ThayerDistribution_CDLA_Driver

May 25, 2022 at 11:30am-1:00pm – Mirenda Center Baiada Atrium on the campus of Neumann University. Reception and Networking; Lunch, compliments of Neumann University. This is a FREE Member Event. Members are encouraged to use this event to introduce non-member Aston Business Owners to the ABA by extending a guest invitation.
You may have heard that Delaware County established a Delaware County Health Department. While their intent may be admirable, their proposed application of services to Aston Township may be far from what our Residents and Business community expect.
Business Owners Letter 4-7-22

Don't miss the general meeting open to all existing and potential members March 30th at 6:00 pm. Aston Township building, 2 New Rd. Aston, PA 19014. Join our vision for a better community and stronger connections.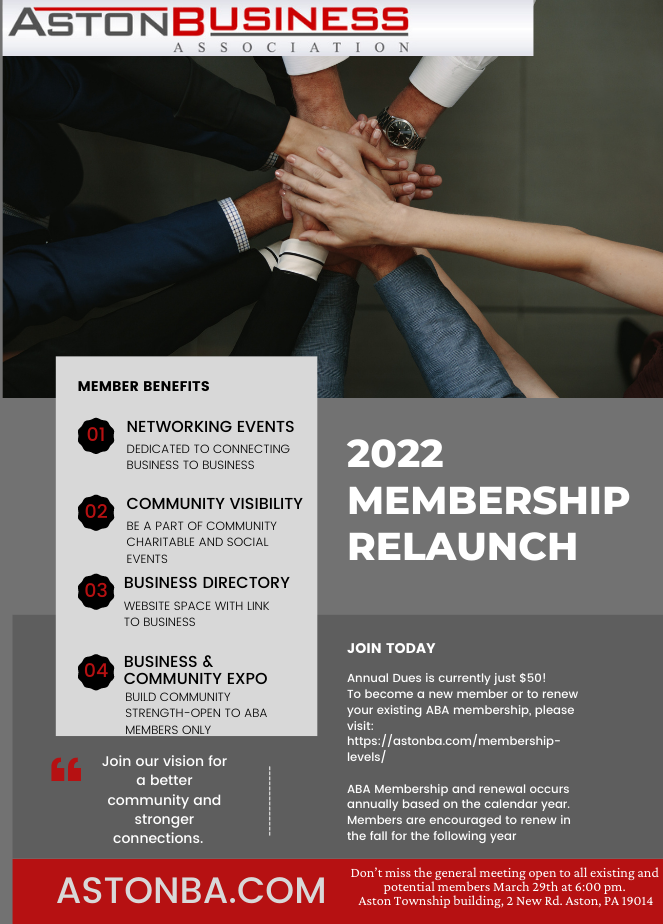 View, share and download hundreds of images of from the 2021 Aston Business Association's Community Day and Business Expo event held on October 2, 2021. Includes images from parade, bike rodeo and contests!
UPDATE:
Good afternoon everyone, I hope you are all enjoying this early preview of spring weather!
While you may already be aware of this, I wanted to pass along some information on PA's CHIRP: "COVID-19 Hospitality Industry Recovery Program."   The application for this grant opens up on Monday, March 15 and we are asking for your help in distributing this to your accommodations and food service businesses.  More information and the application can be found at:
https://delcostrong.delcopa.org/
---
On Friday, February 5, 2021, Governor Tom Wolf signed into law,  legislation setting aside $145 million in funds to aid hospitality industry businesses adversely affected by the COVID-19 pandemic. Specifically, the program requires counties to establish grant programs for these eligible businesses. The initiative will be known as  CHIRP:  "COVID-19 Hospitality Industry Recovery Program."
Valley View Shopping Center, Saturday, October 31st 3pm – 5pm – Hosted by Gatsby's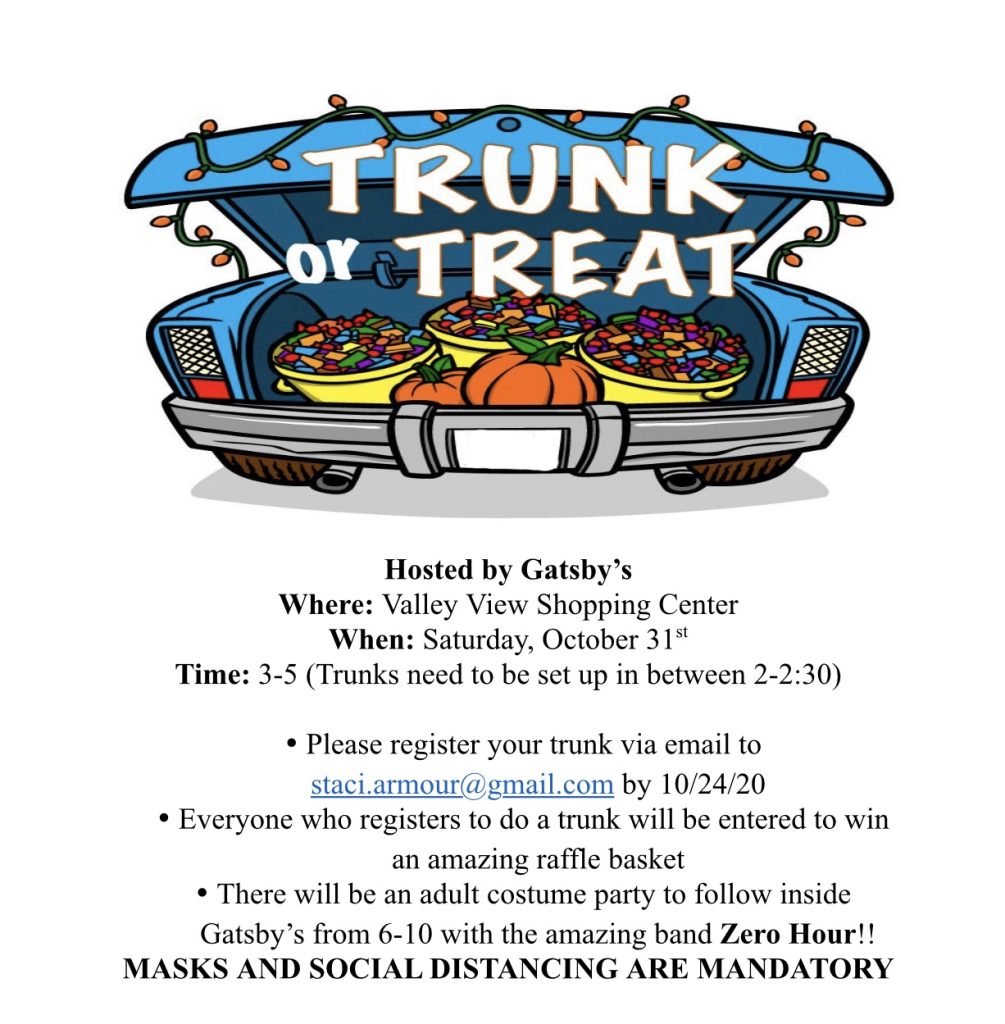 Delaware County Launches ROUND 2
"Delco Strong Small Business Support" Program
$14 million available in grants for small businesses affected by COVID-19
Council's vote on June 17 allows for a second round of Delco Strong Grants to be distributed. $14 million in grants is expected to be released to eligible businesses and non-profit organizations. The non- profit grant program will be administered by The Foundation for Delaware County. Eligibility requirements and instructions for both the business and non-profit programs will be posted online.
Eligibility requirements and instructions will be posted online beginning on June 24:
Applications will be accepted over several days beginning on July 7.
(This is NOT a first come first serve program)
https://delcostrong.delcopa.org/
Our Neighbors Helping Neighbors subsidiary organization is happy to announce to the Aston community that we will be have a Drive By Food Giveaway on Saturday, June 20, 2020 from 10:00am to 12:00pm.  We know times have been difficult for everyone lately and we would like
to help in a small way.
When: Saturday, June 20, 2020 from 10:00am to 12:00pm
Where: 6B Rosalie Lane, Aston (map)
If you are an Aston resident, and could use some help, please stop by to pick up a food bag. The distribution process will be completely safe and CDC compliant! Just pull up out front show a drivers license or proof of residency, then pop the trunk and a volunteer will place a bag in your trunk.
Each care bag will include: Soup, Canned Vegetables, Pasta and Sauce and other miscellaneous items. (1 bag per customer while supplies last)