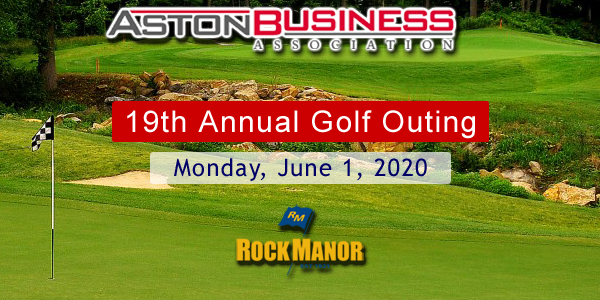 Aston Business Association is sponsoring the nineteenth Annual ABA Golf Outing. The outing will be held on Monday, June 1, 2020 at Rock Manor Golf Club Club. Registration starts at 11:30am and lunch will be available from 12:00pm until 1:00pm. The shotgun scramble will begin at 1:00pm. Barbecue Dinner will be served upon completion. Proceeds from our annual event support our Aston emergency services organizations.
SAVE THE DATE
(details to follow)
ABA members Boates Brothers General Contracting, Rick and Alan Boates are highlighted in an article by Kaitlin Irwin in the January 2020 Delaware County Magazine's Beautiful People section (page 28)
Our 2020 membership drive is in full swing!
All year long our members take full advantage of opportunities to grow their businesses through networking and promotional events. Our Aston Community Day & Business Expo and annual Golf Outing events are a couple examples, and the proceeds from these events go back into our community.  And that's not all we do –  through programs like Neighbors Helping Neighbors and Sun Valley Mock Interviews Aston Business Association members get directly involved contributing time and resources to those who it most.
Become a member today
This year we want you to join us and become an important part of your community while you improve local awareness for your business and contribute directly to your bottom line.
Neumann University has invited all ABA members to join them on October 22nd at 1:00pm to welcoming best-selling business author Adam Bryant. Adam will deliver a FREE Lecture in Management and Entrepreneurship. Registration required.
Join the Fulginiti family and FamilyStrong4ALS.org for their first Family Italian  Dinner, November 10th 4:00- 8:00, IBEW Chichester PA, Catered by Lia's Catering .
The Aston Business Association has scheduled the Annual Aston Township Community Day and Business Expo for Saturday, October 5, 2018 from 10:30AM – 3:00PM.
Community Day will begin with a parade from Neumann University (Neumann Drive) starting at 9:00AM.  The parade will proceed along Concord Road to the Aston Township Community Center .  The parade will feature local community groups and organizations, as well as, musical entertainment.
Inside the community center, the Annual Business Expo will be held for all Aston businesses and organizations interested in displaying their products and services.  Other community festivities will be held outside.  There will be free rides sponsored  by Bette's Bounces, games, food, drinks and contests for everyone to enjoy.
Aston Township has asked us to remind members that Commercial Maintenance Inspections (formally Commercial Life Safety Inspections) will be completed for businesses throughout the Township to make sure they are complying with various items for safety purposes, this is the responsibility of all business owners.  The forms used and items inspected can be found here or on the code department portion of the website under commercial forms.  If you should have any questions regarding this process, please contact the code department at 610-494-0384
Join us for a Dinner, Networking and Informational event on Wednesday, July 24, 2019 at Neumann University.
The event is open to all Aston Businesses and will begin at 6pm. (Please RSVP using the form on this page so that we can get a head count)
We'll start with a short reception and networking event followed by dinner and an informational presentation by Dr. Chris Domes, University President.
DATE:  July 24, 2019
TIME: 6:00 pm – 7:30 pm
LOCATION:
Neumann University Campus
Multipurpose Hall in the Bruder Life Center (map)
(enter from Concord Rd., park in main lot at the top of the hill)
It's an ABA Networking Event at Neumann University, in Aston. This will be an open event for member and non-member Aston business owners and representatives. (DETAILS TO FOLLOW) Read more
18th Annual ABA Golf Outing, was held on Wednesday, June 12, 2019 at the Downingtown Country Club.
We'd like to thank all of the sponsors and golfers that made our 2019 event a great success. Proceeds from the outing will be presented to our dedicated Aston Township emergency response organizations in a formal presentation at our annual dinner.
Special thanks to Lisa Shaw and all of our volunteers who organized the event.
WHO: All Aston Business Association Members – and Friends of the ABA and SVHS
WHAT: Mock Interview Day
WHEN: Tuesday, March 14, 2019 7:30AM TO 10:45AM +/-
WHERE: Sun Valley High School